March 16, 2017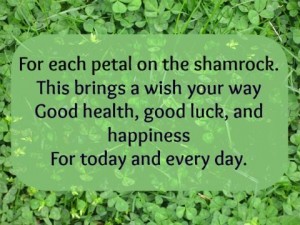 St.Patrick's day is tomorrow (March 17th), and Vegas is READY to celebrate! Although initially the festival was a religious holiday, it has later become a celebration of Ireland and it's culture. We put together a list of our favorite top activities to celebrate all things Irish in Las Vegas! And if anyone greets you with "Top of the mornin' to ya", the proper Irish response is "And the rest of the day to you"! 
(With all these amazing drink specials, you're going to need a Limousine Service in Las Vegas ;))
1. Flogging Molly, Irish-American seven-piece Celtic punk band from Los Angeles, California, Concert at the Cosmopolitan March 16th at 8pm
2.The largest St. Patrick's Day celebration in Las Vegas is the O'Sheas Bloq Party. Festivities will include a leprechaun parade, live bands, bagpipers, entertainment, great food and drink specials on March 17 at The LINQ. The parade kicks off at 12 noon with festivites leading into the wee hours of the night.
3.Constructed from a pub meticulously restored in Ireland then shipped to Mandalay Place, Rí Rá epitomizes the true Irish pub experience with its comfortable neighborhood environment where conversation flows as smoothly as Guinness ebbs in the glass 
4.Nine Fine Irishmen at the NY NY -Inspired by a group of extraordinary Irishmen who led lives of great adventure, this is a pub of epic proportions that was built in Ireland and shipped to the heart of Las Vegas!
5.Patio Party at Due & Proper at The District at Green Valley Ranch Due & Proper will host a patio party complete with a DJ, Irish festivities, whiskey, beer and cocktails from 4 p.m. to 8 p.m. Specials will include Guinness drafts for $5, beer and shot combos with Guinness and Hennessy for $8.
For more information, or to reserve your St. Patrick's Day Transportation, please call 702-792-5466
#FloggingMolly #STPatricksday #Vegas #limousine #Transportation#StPatrcksdayparade